Products
Infrastructure & Industrial Segment Products
Submersible Cables
SUBMERSIBLE CABLES (100% Reach Compliance)
---
These wires are mainly used for Submersible Pump connections and its PVC formulation is free from lead & Phthalate base Chemical which help to some extent water to get polluted to which prevents water pollution to large extent. It doesn't get easily damage because of flat shape and helps in easy installation in narrow area.
SRiNi LiNK Submersible Cables, are one of the best protector against rain water & ingress of small solid foreign particles.
SRiNi LiNK Submersible Cables are manufactured by keeping all the aspects & specification of ISI & International standards, which makes our cable one of the best product for your submersible pumps.
Use SRiNi LiNK Submersible Cables for long-life & electrical safety.
Application: These cables are used for submersible pumps, which is used in very severe, tough, damp agriculture, Industrial area etc. Where continuous vibration force & power fluctuation occurs, it doesn't get damage easily on the outer surface because of its better pvc formulation & flat shape.
Conductor: With Bright-annealed EC grade copper with 99.90 to 99.97% purity, which offers low conductor resistance, lower heating and saves the power consumption.
Reach Insulation & Sheath: The Reach PVC compound formulation is specially developed by keeping in view all the ISI required properties of TYPE A & ST-1 category, with an additional mechanical & chemical properties for long life and electrically safe like abrasion resistance, Oil resistance, scratch resistance from solid foreign particles, Slow earth decaying.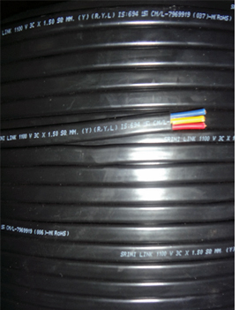 TECHNICAL SPECIFICATION: (Generally conforming to IS : 694)
Area Of
Conductor

Number / 
Diameter Of Wire

Resistance Per Km
@ 20º C (Max)

Current Carrying Capacity
in Amps.as per IS:3961

Nominal thickness
of Insulation

Nominal thickness
of Sheath

SHEATH


Sq.mm

mm

Ohms

Underground

 

Over all Width (Max)

Over all Height (Max)

 

Single Phase

Three Phase

 
 

mm

mm

1

32/0.2 or 14/0.3

19.5

10

9

0.6

0.9

10.5

5.0

1.5

30/0.25 or 22/0.3

13.3

13

11

0.6

0.9

11.5

5.4

2.5

50/0.25 or 36/0.3

7.98

17

15

0.7

1.0

14.0

6.4

4

56/0.3

4.95

22

20

0.8

1.0

16.5

7.2

6

84/0.3

3.30

28

25

0.8

1.1

18.0

8.0

10

140/0.4

1.91

39

34

1.0

1.4

22.5

9.6

16

126/0.4

1.21

53

46

1.0

1.4

26.5

11.0

25

196/0.4

0.780

59

51

1.2

2.0

32.5

13.5

35

276/0.4

0.554

72

63

1.2

2.0

36.0

15.0

50

396/0.4

0.386

91

82

1.4

2.2

41.5

17.0
SRiNi LiNK™ 1.00 SQ.MM X 3 C UP TO 1100 V IS : 694 (REACH)