Products
Infrastructure & industrial segment products
Panel Wires
PANEL WIRES (TYPE D / FR / HRFR / FR-LSH / ZH-FRLS)
---
These Cables are totally manufactured for Indian market on the basis of IS:694 Standard used in Residential, Commercial & Industrial Buildings etc., for Internal, External & Concealed Wiring and also in Electrical Panel Board Wiring, Electricity Distribution Board Wiring.
Application: These cables are totally manufactured on the basis of IS : 694 Standard Class 5, which are mainly used for the wiring of commercial, Industrial building & Panel Wiring, Machinery installation under typical industrial environmental condition and various electrical installations in damp areas.
Conductor: With Bright-annealed EC grade copper with 99.97 % purity, which offers low conductor resistance, lower heating and saves the power consumption.
RoHS Insulation & Sheath: The PVC compound formulation is specially developed by keeping view of all the ISI required properties of TYPE A & ST-1 category, with an additional mechanical & chemical properties for long life and electrically safe like abrasion resistance, Oil resistance.
Note: On request special kind of insulation or sheathing can be done like Type C (HR), FR, FR-LSH, ST2 category PVC compound.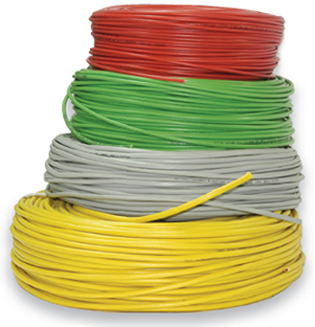 FLEXIBLE PANEL WIRES : (Generally conforming to IS:694 : 1990)
PVC Insulated Unsheathed Cables with flexible copper conductor for working voltage upto 1100 volts
Nominal Area Of Conductor
Number / Diameter Of Wire
Resistance Per Km @ 20º C (Max)
Current Carrying Capacity in Amps.as per IS:3961
Nominal Thickness of Insulation
Over All Diameter (Max)
Sq.mm
mm
Ohms
On Cable Tray
Concealed
mm
mm
Plain Copper
Tinned Copper
Single Phase
Three Phase
Single Phase
Three Phase

0.5

16/0.2

39

40.1

4

-

-

-

0.6

2.6

0.75

24/0.2

26

26.7

7

-

-

-

0.6

2.8

1.0

32/0.2

19.5

20.0

12

12

11

9

0.6

3.0

1.5

30/0.25

13.3

13.7

16

15

13

11

0.6

3.4

2.5

50/0.25

7.98

8.21

22

20

18

16

0.7

4.1

4.0

56/0.3

4.95

5.09

29

26

33

20

0.8

4.8

6.0

84/0.3

3.30

3.39

37

33

24

25

0.8

5.3

10

140/0.3

1.91

1.95

51

45

42

35

1.0

7.0

16

126/0.4

1.21

1.24

68

61

57

48

1.0

8.1

25

196/0.4

0.780

0.795

86

78

71

60

1.2

10.2

35

276/0.4

0.554

0.565

110

99

91

77

1.2

11.7

50

396/0.4

0.386

0.393

145

135

120

100

1.4

13.9

70

354/0.5

0.272

0.277

200

180

165

145

1.4

16.0

95

480/0.5

0.206

0.210

235

215

33

165

1.6

18.2

120

607/0.5

0.161

0.164

270

240

225

195

1.6

20.2

150

760/0.5

0.129

0.132

310

280

-

-

1.8

22.5

185

941/0.5

0.106

0.108

360

320

-

-

2.0

24.9

240

1221/0.5

0.0801

0.817

425

385

-

-

2.2

28.4

300

1527/0.5

0.0641

0.0654

490

440

-

-

2.4

31.0